Meet Dr. Colby Nelson
A Passion for Helping People
Since I was a child I've always known I would choose a profession that would allow me to help people. I knew in my heart that there was a perfect profession for me somewhere where I could truly affect peoples' lives. It only took me 3 visits to my hometown Chiropractor in Audubon, Iowa to realize the profession I had always been searching for.
A patient's happy face, is all the motivation I need.

Dr. Colby Nelson
My Take on True Health
My health philosophy is simple. True health comes from a healthy lifestyle and a properly functioning nervous system. Your nervous system controls every process in your body, from your immune system to the functioning of your organs and muscles. It's safe, effective and doesn't require harmful drugs and painful surgery. More and more people around the world are discovering the benefits of chiropractic care. This is because it is founded on the principles of overall wellness and not on simply treating symptoms.

Chiropractic Education
After graduating with my Bachelor of Science degree from Iowa State University, I was accepted to attend the prestigious Palmer College of Chiropractic. I became a leader of the Palmer Sports Injury Club and was able to attend a mission trip to care for underprivileged areas of Brazil. I was fortunate to finish my studies early and spend my last semester gaining experience with an internship in a well-respected Chiropractic office. This started my career as a chiropractor in West Des Moines.
I regularly attend seminars on several health-related topics, including nutrition, sports care, wellness, and pediatric care.
My Post-Doctorate training and education have focused on the areas of Human Wellness and Prevention and Functional Medicine. I am one of only a handful of doctors around the world who has earned the title as a "Certified Wellness Practitioner".
A Peronal Note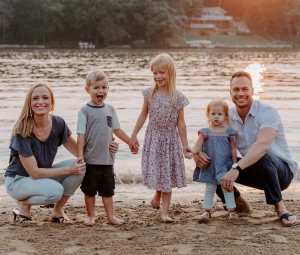 Outside of my West Des Moines chiropractic office, I love to spend time with my lovely wife Gigi, our beautiful kids, Harper, Beckett, and Quinn, and our amazing family and friends. Quality time with loved ones is extremely important to me. During my free time I enjoy spending time outdoors going on hikes, bike rides, and long walks on nature trails as a family. I am also a huge sports fan, participating in many sports and cheering on my favorite teams. I look forward to relaxing time outdoors as it rejuvenates me for the week ahead.
I am very grateful that I have been able to share the importance of Chiropractic care with my family as well. I am frequently reminded to bring my portable table every time I travel for a family get-together. My young nephews especially love getting adjustments from Uncle Colby.
Thank you for visiting our site! I look forward to meeting you in person and learning how we can assist you and your family in reaching your health goals. Give our West Des Moines chiropractic office a call and let's arrange a time to explore your options.

Dr. Colby Nelson | (515) 225-4809